Ureshino Onsen is a hot spring with a long history located about 90 minutes from Fukuoka by car.
It has been famous from old times for its skin-beautifying properties, and is reputed as the best hot spring area in the Kyushu region.
Our Japanese-style inn, Irifunesou, is a five minute walk from the Ureshino Onsen Town. Rather than the stiff atmosphere of other inns,
the style of our inn is friendly and light.
Thus, we are able to provide very reasonable prices for staying with us, starting from 3990 a night for a single person. Please come and visit us.
If you'd like to meet a ninja, let the front desk know, and we will give you an invitation to see the Ganso Ninja Village Hizen Yume Kaido.

Communal Bath
Outdoor Bath
Saga's Ureshino Onsen is one of Japan's Top Three Hot Springs for Beautiful Skin, hand-picked by the hot spring professor Satoshi Fujita,
along with Hinokami Onsen in Shimane and Kitsuregawa Onsen in Ibaraki. Ureshino Onsen's water is rich in sodium chloride and sodium bicarbonate
and has a silky texture.
The big bath is a rare tatami-buro, so you can enjoy a bath and the tatami mat flooring as well.
Of course, the water's quality and its thick consistency lives up to its reputation for making beautiful skin, and many of our customers compare it to
makeup skin serums. As you can enjoy beautiful skin and tatami mats for a reasonable price, it's definitely worth giving it a try.

| | |
| --- | --- |
| Communal Bath | One each for Men and Women |
| Outdoor Bath | One each for Men and Women |
| Business Hours | 11:00~24:00/ 6:30~9:30 |
| Entrance fee | 600 yen (Towels not included) |
| Amenities/Facilities | shampoo・ conditioner・body wash・soap・hair driers・lockers (fee not included) |


10-tatami mat Japanese room with bath (hot spring water)
*It takes time to use the hot spring water
Self-cleaning toilets

8-tatami mat Japanese room
Self-cleaning toilets

Twin bed rooms
※Bed width: 90cm x 2
bath
Self-cleaning toilets
The three different types of rooms that have free Wi-fi access are the Japanese-style 10 tatami mat rooms with a shower and toilet and facing
the Ureshino river, the 8-tatami mat rooms with toilets, and the handicap accessible western-style rooms.
The Japanese-style rooms are purely Japanese-style, so you can enjoy the unique Japanese custom of sleeping on a futon.
The western-style rooms are equipped with twin-sized beds.

yukata・bath towel・towel・hand soap・shampoo・body wash (for rooms with bath)・toothbrush・men's razor・ bomb

LCD television・free Wi-Fi・refrigerator (empty)・electric kettle


We serve orthodox Kaiseki-style cuisine.
Dinner is served at 6:00pm or 6:30pm.
We ask that you please check in on time.

You may also go to the Onsen Town and eat a variety of foods such
as sushi at local izakaya-style restaurants.
If you wish to do this, we will be happy help you find a restaurant
suited to your taste.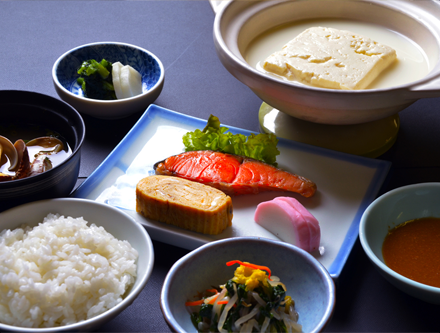 We serve a Japanese-style breakfast with foods commonly seen for breakfast.Breakfast starts at 7:30am or 8:00am.
※Breakfast and dinner are both served in the dining area.


On the first basement floor (1F). It's free of charge.

You are free to borrow from our collection of about 800 manga comic books.

There is one computer in the 1F lobby. You can use it free of charge. *Within the premises, you can use Wi-fi for free.

On the first floor (1F) we have coin laundry machines.Washer: 300 yen, Drier: 400 yen *We also have laundry detergent for sale (100 yen)

We have souvenirs for sale. Please take a look after your bath.

Breakfast and dinner are served in the restaurant or in the Japanese-style party room.